Here are the simple steps you will follow to place an order for prints and enlargements:


If you haven't already downloaded ROES software into your computer, please click on this graphic and follow the onscreen prompts.
Then, do the following:

1. Fill in the Enter Customer Information window to be able to use ROES to submit orders to our laboratory.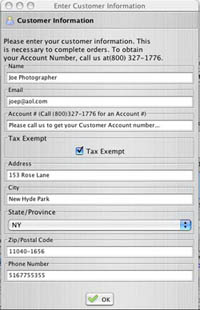 Please include all your information, including your Customer ID number (required before you can submit an actual order.)
You can get your Customer ID number by filling in our online Application Form or by calling us at (800) 327-1776 for a quick telephone interview.

2. Open a file, containing your pictures (on your hard drive or other digital media), by clicking on the Folder…

icon. When you've finished selecting the folder containing your images, your pictures will appear as small images in the Thumbnail window on the right of your monitor.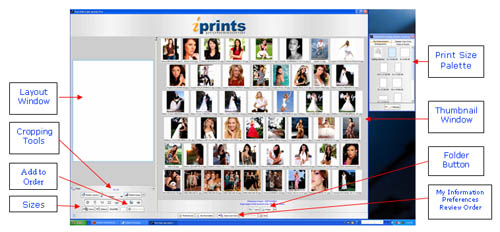 Tip: You can change the sequence of your photographs by dragging individual or selected groups of thumbnail images around the Thumbnail window and dropping them in place.

3. Choose the Catalog of print sizes you want. A catalog is just what it sounds like…a collection of print or enlargement sizes on a specific paper surface. These sizes will appear as graphic images in a Print Sizes Palette.

The first time you open ROES the Standard Catalog (Matte Paper) will already be open. You can use that catalog for your order of any size matte prints…or click on the Catalogs button on the bottom of the Print Size Palette window to change to a different catalog and paper surface.
In the event you close the Print Sizes Palette window you can re-open it by clicking on the Sizes icon under the Layout Window on the left side of the main window.
You'll see drop-down menus of various size prints. Go to Catalogs. Select a Catalog from the drop-down menu that contains the type of print sizes you want by clicking on it. (i.e. Matte Surface prints.) Now, click on Show Sizes Palette… and print templates will be immediately displayed in a pop-up window. (We're showing the pop-up of the Standard Catalog – Matte Surface in the top picture.) Click on any print size template and a box with the correct aspect ratio for that print size will appear in your Layout window. It's that simple!
Tip: Move the Catalog window…or any pop-up window…wherever it is convenient for you to work with on your monitor screen. You can also expand or contract the layout or thumbnail windows by dragging the • horizontally. Here is our suggested layout: